6 March 2014
Wolf Hall and Bring Up The Bodies Transfers to the West End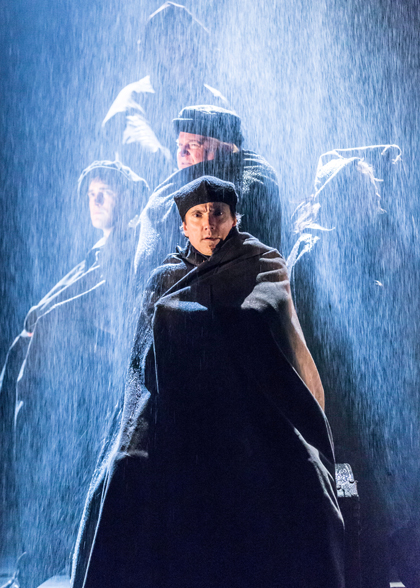 Playful Productions and the Royal Shakespeare Company are delighted to announce that the sell-out productions of Wolf Hall and Bring Up The Bodies will transfer to the Aldwych Theatre from 1 May for a strictly limited season until 6 September.
Hilary Mantel's enormously popular books have been adapted for the first time for the stage in two parts by Mike Poulton. The adaptations were commissioned by Playful Productions who worked in collaboration with the RSC to bring them to the stage. Directed by Jeremy Herrin, the productions have been met with universal acclaim with tickets quickly selling out at the Swan Theatre in Stratford–upon-Avon. These two plays tell the compelling story of the political rise to power of Thomas Cromwell from blacksmith's boy to Henry VIII's right hand man, and have been playing in repertoire since December.
Of the transfer, Hilary Mantel said, "I am, I think, currently the luckiest author in the world. When my novel Wolf Hall was published in 2009, it was awarded a Man Booker prize and brought me a legion of keen readers worldwide. Its sequel, Bring Up The Bodies, won a second Man Booker and the Costa prize. Could life get better? It could. Brilliantly adapted for the stage by Mike Poulton, my Tudor tales are enjoying a spectacular run in Stratford-upon-Avon. Each night, at the Swan Theatre, we have the privilege of setting our funny, fast, harrowing plays before audiences who are provoked, exhilarated and moved. Jeremy Herrin directs a clever, committed cast, headed by Ben Miles as the sardonic and constantly surprising Thomas Cromwell. In their glowing costumes, against a stark background, lapped by flames and falling snow, our company recreates the court of Henry VIII, its brief love affairs and brutal power games, its dances and masques, weddings and executions.
To walk into a theatre where every seat is taken is a special experience. Now we have the chance to bring the plays to a wider audience. We are thrilled that our London base is to be the Aldwych, once the home of the RSC, a theatre that will provide a showcase for this unique project. We hope to delight our London audiences this spring as we have delighted our Stratford audiences through the winter. Meanwhile, in the pages of my third book, steadily richer and more ruthless, more ingenious and more haunted, Thomas Cromwell remains a work in progress…"
Mike Poulton said, "Hilary and I have been at work on Wolf Hall and Bring Up The Bodies for over three years and we're still at it. It has been an extremely happy and close collaboration. We're constantly asked if there have been difficulties – tensions – in our working relationship and we've become almost apologetic in having to confess that there have been none. Absolutely none. Tickets for the Stratford run sold like wildfire – which was humbling. The London transfer is a relief to us all. And for me the Aldwych is the perfect theatre because of all its connections with the RSC – it feels like coming home."
Jeremy Herrin said, "I'm delighted to be working with this great ensemble to deliver these entertaining adaptations of Hilary's phenomenal novels to a new audience in a new space. The Aldwych is a theatre that I've always wanted to work in so it's a privilege to be able to do so with such exhilarating material. I can't wait to show London how thrilling and current the story of Thomas Cromwell is."
Wolf Hall won the Man Booker Prize in 2009, and Bring Up The Bodies won in 2012, making Hilary Mantel the first woman ever to have received the award twice, and the first person to win the prize for two consecutive novels of the same series. She achieved another first recently when Bring Up The Bodies also won the Costa Novel Award, the first time the same novel has won both this and the Man Booker.