1 October 2013
Wolf Hall and Bring Up The Bodies Casting Announcement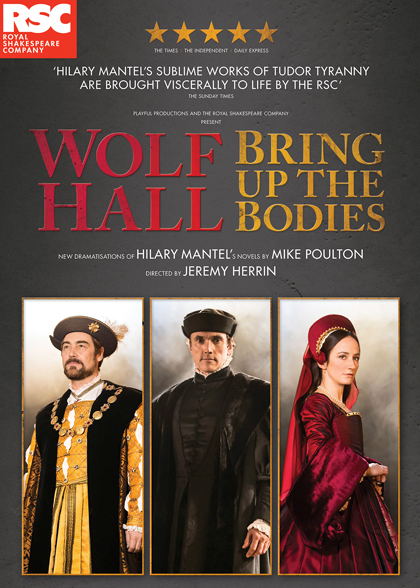 The world première stage versions of Hilary Mantel's multi award-winning novels about the rise and fall of Thomas Cromwell and Anne Boleyn are now fully cast and will begin rehearsals soon. The Royal Shakespeare Company production of these two plays will preview in the Swan Theatre in Stratford-upon-Avon in December and run until 29 March 2014.
Mike Poulton's stage adaptations of Wolf Hall and Bring Up The Bodies were commissioned by Playful Productions.
The cast includes Joey Batey (Mark Smeaton), Nicholas Boulton (Duke of Suffolk), Lucy Briers (Katherine of Aragon/Jane Boleyn, Lady Rochford), Leah Brotherhead (Jane Seymour/Princess Mary/Lady Worcester), Alexander Cobb (Rafe Sadler), Olivia Darnley (Mary Boleyn/Lizzie/Mary Shelton), Nicholas Day (Duke of Norfolk), Daniel Fraser (Gregory Cromwell), Madeleine Hyland (Lady in Waiting/Maid), Paul Jesson (Cardinal Wolsey/Cardinal Wolsey's ghost/Sir John Seymour/Kingston), Lydia Leonard (Anne Boleyn), Ben Miles (Thomas Cromwell), Pierro Niel Mee (Christophe/Francis Weston), Nathaniel Parker (King Henry VIII), Oscar Pearce (George Boleyn, Lord Rochford/Edward Seymour), Matthew Pidgeon (Stephen Gardiner/Eustache Chapuys), John Ramm (Thomas More/Harry Norris), Nicholas Shaw (Harry Percy/Brereton), Giles Taylor (Cranmer/Thomas Boleyn/Packington), Jay Taylor (Thomas Wyatt).
Wolf Hall won the Man Booker Prize in 2009, and Bring Up The Bodies won in 2012, making Mantel the first woman ever to have received the award twice. She achieved another first recently, when Bring Up The Bodies also won the Costa Novel Award, the first time the same novel has won both this and the Man Booker.
The plays are directed by Jeremy Herrin, with set and costume designs by Christopher Oram, lighting by Paule Constable (Wolf Hall) and David Plater (Bring Up The Bodies), sound by Nick Powell, movement by Siân Williams and music composed by Stephen Warbeck.