3 February 2017
Lady Day at Emerson's Bar & Grill comes to the West End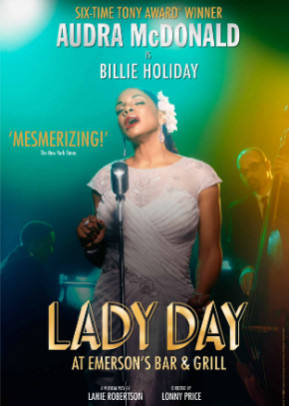 After the news of Audra McDonald's pregnancy last year, producers of the postponed London run of Lady Day at Emerson's Bar & Grill are delighted to announce that this summer, McDonald will be making her long awaited West End debut portraying jazz legend Billie Holiday in Lady Day at Emerson's Bar & Grill in a performance that won her a record-setting sixth Tony Award.
Written by Lanie Robertson and directed by Lonny Price, Lady Day at Emerson's Bar & Grill will run for a limited engagement at Wyndham's Theatre with previews from 17 June to 9 September, and opening night for press on 27 June 2017.
Lady Day at Emerson's Bar & Grill won two Tony awards in 2014, including 'Best Performance by a Leading Actress in a Play' for Audra McDonald, making her Broadway's most decorated performer, winner of six Tony Awards and the first and only person to receive awards in all four acting categories.
1959, in a small, intimate bar in Philadelphia, Billie Holiday puts on a show that unbeknownst to the audience, will leave them witnesses to one of the last performances of her lifetime. Through her poignant voice and moving songs, one of the greatest jazz singers of all-time shares her loves and her losses.
Billie 'Lady Day' Holiday had what is widely considered one of the greatest jazz voices of all-time. Born Eleanora Fagan in April 1915, she rose to popularity in the 1930s and 1940s with her pioneering vocal style strongly inspired by jazz instrumentalists. After a turbulent personal life and struggle with addiction, she died at the untimely age of 44. In 2000, Holiday was inducted into the Rock and Roll Hall of Fame.
Tickets are available www.ladydaywestend.com