21 October 2011
Hay Fever to Open at the Noël Coward Theatre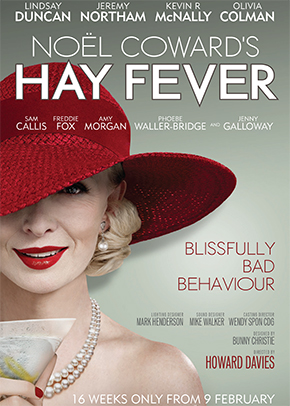 Running at the Noël Coward Theatre from 10 February – 2 June 2012, Hay Fever will be directed by Howard Davies, with designs by Bunny Christie, lighting by Mark Henderson and sound by Mike Walker. Hay Fever is produced in the West End by Richard Willis, Matthew Byam Shaw for Playful Productions and Sonia Friedman Productions. Further casting will be announced shortly.
Judith Bliss, once glittering star of the London stage, now in early retirement, is still enjoying life with more than a little high drama and the occasional big scene. To spice her weekend up, Judith invites a young suitor to join her in the country. However, her novelist husband, David, and her two eccentric children, Simon and Sorel, have had the same idea for themselves and any hope for private flirtation disappears as the family's guests begin to arrive. Misjudged meetings, secret seductions and scandalous revelations all run riot at the most outrageous of all house parties.
In 1920 Noël Coward made his stage debut at what was then known as the New Theatre in his first play, I'll Leave It To You. In 1973 the theatre was renamed the Albery and subsequently, in 2001, Lindsay Duncan and Alan Rickman played Amanda and Elyot in Coward's Private Lives to great critical acclaim. In June 2006 the theatre was renamed once again as the Noël Coward Theatre when the building underwent major refurbishment including the naming of the two principal dressing rooms as Noël and Gertie, the latter being Coward's favourite leading lady, Gertrude Lawrence.
Cameron Mackintosh said, "I'm delighted to be able to have our first Coward play at the theatre since it was renamed after The Master. Truly one of Noël's masterpieces, Hay Fever promises to be as great an evening at this theatre as Howard Davies' Private Lives a few years ago, also starring the delicious Lindsay Duncan. I am also delighted to welcome to the salon of the Prince of Wales Theatre, Noël's beloved grand piano on which he composed so many of his wonderful songs. His talent to amuse lives on forever."